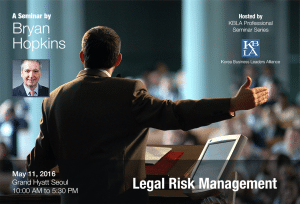 For those of you who engage in business,
 everyone knows that  properly managing risk plays an important part in the success of a company.   However,  though some companies may acknowledge the benefits of risk management , many don't consider  legal risk management  (LRM) processes when trying to mitigate or control and manage litigation risk issues,  government investigations as well as legal liability. The benefits of ERM managment is never fully realized, leaving the company exposed to the tremendous costs associated with legal and corporate liability.
I am excited to announce that on May 11 Rodney Johnson  of Erudite Risk  and I will be speaking at  Seoul's first conference on legal and operational risk management.  The conference will address many issues and concerns raised by legal and operational risk as well as discuss solutions to some of the pressing risk management issues of the day.  Please check out the attached data sheet for more information.
Any questions about the conference please contact me or the KBLA.  You may access the KBLA website at this link:   http://kbla.info/index.php/legal-risk