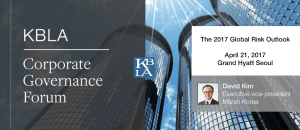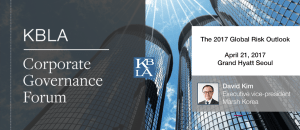 Organizations always hope for sunny skies and calm seas when  conducting business. No one wants to be unpleasantly surprised nor exposed to rough weather, especially if such weather causes a  person or an organizations' reputation, financial well being or its very existence to be threatened. However, .due to many well publicized scandals involving politicians, companies, officers and directors, the importance of a properly  implemented of risk management program has become essential. People are discussing risk management processes more than ever.Organizations failing to manage risk have been subjected to  government investigations, penalties and fines and of course the wrath of public outrage.  Managing risk , including the management of legal risk has become very important in many countries, including Korea.
Korea, for instance has started to pay attention to risk managment for a number of reasons incuding  a number of  well publicized events such as (i) the sinking of the Sewol Ferry, (ii) the massive credit card scandal involving hacking of a number of banks, (iii)  bid rigging scandals,  ( iv) the Samsung Galaxy Note 7 recall issue, (v)  the impact of Brexit on the Korean economy (vi) the impeachment of President Park,  (vii) the implementation of the Kim Young Ran Act, and of course (viii) the new KFTC  regulations  to name a few.   These events  have  had or will have a major impact on Korean business and society as a whole for many years to come.   All of the events listed above will impact companies doing business in one form or another and in-house counsel and corporate risk managers must be on guard for potential risks  ( whether operational, legal, political or financial) caused by these  events.
The principle role of in-house counsel in any organization is of course to mitigate legal risk in connection with the sale of products or services provided by the company. In essence, how the company or organization protects its success will be based in part on its ability to manage and control legal risk in the global marketplace. A company can be quite successful- its sales can increase on an exponential basis. But, if a risk management program is not properly  put into place,  lawsuits, investigations, government fines and penalties can offset any gains and profits generated by sales. Legal counsel must take an active effort in developing strategies, systems and processes that will minimize legal exposure his or her organization faces.
But it doesn't stop there.  Management also must be involved in managing and mitigating risk.  If managment fails to help manage risk, the company or organization will be at risk.   Therefore, like companies in other jurisdictions, Korean companies need to focus more on risk management. Managers and legal counsel should review their Enterprise Risk Management processes, if any.  They should also look at thier  risk managements systems on a division or department level. They should ask themselves the hard questions such as
1. Are they prepared for potential risks?
2. Are the risk management systems up to date?
3. Does the company's risk management processes reflect the current legal and political environment?
4. What are the potnetial risks from a political and geographical standpoint?
5. How can risk be properly identified and mitigated?
For answers to these questions and others. you must first understand the risk outlook for Korea as well as other countries.  So, please join me at the KBLA's  Corporate Governance  Forum Seminar entitled - "  The Global Risk Outlook for 2017"  to be held on April 21 at the Hyatt Hotel in Seoul.  Visit the following link to register :
http://www.kbla.info/index.php/upcoming-events-hidden/event/0/52-kbla-corporate-governance-forum/43-kbla-corporate-governance-forum