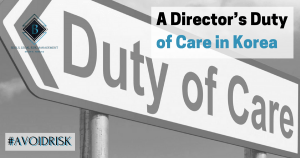 Like directors in the US and elsewhere, directors in Korean companies have fiduciary related duties to protect and safe-guard the Company and the Company's assets. Such duties are set forth in the Korean Commercial Code and include:
• Duty of Care as a prudent manager
• Duty of Confidentiality
• Fiduciary Duty-the Duty of Loyalty
In Korea, if a director violates the duty of care as a good manager (including the duty to faithfully perform in the Company's best interest) he or she may be held liable to the company or even to third parties and could be required to pay damages. Under Article 382-3 of the Korean Commercial Code a director's duty of care and good faith encompasses a number of duties including the:
• Duty to review the company's activities
• Duty to review corporate information and documents
• Duty to protect a company's assets
• Duty to supervise and oversee employees
• Duty to review all major filings with regulatory agencies
A director may even be subject to criminally liability as well as civil liability upon the negligent failure of fulfilling the obligation of care. Directors who violate the provisions of the Korean Commercial Code or the Company's articles of incorporation may be held jointly and severally liable to the Company. This is true especially when the director's actions are intentional, or are committed with gross negligence. Such liability may be found when the director fails to fulfill the duty of care and loyalty by:
• The intentional neglect or negligence in performing duties
• The failure to manage affairs as "an ordinary prudent person"
• Endangering company assets through gross negligence
• Engaging in a business that conflicts or competes with the Company
• Using a business opportunity that could benefit the Company for one's own personal account or the account of a third party
Looking at the civil and common law aspects of the duty of care (Korean courts are trending towards the business judgment rule of the US) the following is true of directors in Korea today:
1. Directors must use reasonable care in protecting the Company's assets
2. Directors must use reasonable care in providing a safe work place and work environment
3. Directors must use reasonable care when overseeing the Company's activities
Remember, though serving as a director on the Board of a Korean company may sound exciting it comes with risk. There are restrictions as to what a director can or cannot do and if a director violates his or her fiduciary duty or duty of care, he or she is subject to legal action and even criminal liability.