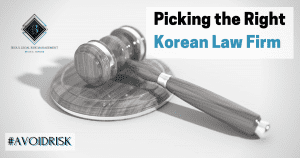 Picking a law firm or the "right" law firm has been the topic of a number of articles and books. This is especially true in Korea. In Chapter 30 of his book, Doing Business in Korea, Tom Coyner describes the trials and tribulations of picking the right law firm in Korea. He opines that some domestic and international lawyers are commercially incompetent, as some Korean attorneys fail to appreciate the commercial context in which they offer counsel. In his Korean Law Blog, Sean Hayes has also written about the importance of selecting a commercially competent lawyer when looking for counsel in Korea as well.
Failure of appreciating or understanding the commercial environment in which one operates is not unique to Korean lawyers. I've witnessed firsthand lawyers in other jurisdictions, including the US, act as if they were giving legal advice inside a vacuum. However, I firmly believe that Korean law schools which, until recently, failed to emphasize the commercial/international nature of legal practice in Korea, are partly to blame. Until recently, the Korean legal market was less competitive than in other jurisdictions in Asia, such as Hong Kong and Singapore, which are known for producing internationally focused lawyers schooled in common law. However, as more and more Korean lawyers study and work abroad, the international/commercial abilities of younger Korean lawyers are increasing.
Be that as it may, picking the right law firm in Korea is like picking a law firm in other jurisdictions. It is up to the corporate manager or in-house counsel to meet with outside lawyers and determine if they are a good fit. One should ask plenty of questions, get referrals, and look at trade journals and publications to get an idea of which firms are known for their commercial and international expertise. For those interviewing prospective law firms or lawyers ask yourself the following questions:
- Do you get the feeling that the law firms you meet understand your business and industry?
- What law firms have represented companies with similar issues?
- Look at the website of the law firms you consider. What does the website say? Does it specialize in the areas you are concerned about?
- What does the local business community think about the firm or firms you look at?
- After meeting with a law firm are you impressed with its capabilities? Do you believe you trust the partners you met with?
A firm that grasps your business and industry is more likely to appreciate your business/legal issues and offer constructive advice. And of course, you should be comfortable with the lead attorney you met. So, it's up to you to decide whether the firm is a good fit or not. Remember that selecting the right law firm for your legal issue or issues is the most important step in resolving the legal matters at hand